Mind Beyond Matter by Dr Gavin Rowland
HOW THE NON-MATERIAL SELF CAN EXPLAIN THE PHENOMENON OF CONSCIOUSNESS AND COMPLETE OUR UNDERSTANDING OF REALITY
What if it turned out that we weren't just bodies with brains, but embodied souls, and that this explained a whole lot about our psychology and the fundamental nature of reality?
Cosmologists now agree that two thirds of the universe is invisible and non-material. They call this invisible substance dark energy. Dark energy offers new opportunities for the investigation of the age-old question of the nature of mind. The problem is, the mind sciences haven't yet caught up with the possibilities of this new cosmology and are still trying, unsuccessfully, to prove that the mind is a product of the material brain.
In Mind Beyond Matter, Dr Gavin Rowland tackles perhaps the greatest scientific mystery of all—the problem of consciousness. He analyses the subject in depth and finds convincing evidence that the mind is a non-material thing. In the process, he develops a new science of the non-material, and a new understanding of the mind, of mental illness, of spirituality and of God.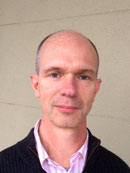 Dr Rowland is a general medical practitioner with a special interest in mental health. He lives in Australia.
Published by Burdock Books